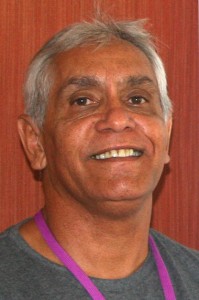 Des Jones of Dareton Wentworth, near the NSW-Victorian border, joined the Driving Change program as a mentor in mid-2015. Originally a carpenter, he is a longtime community advocate who has worked across health, housing and employment, and Driving Change is the latest in that commitment. He hopes to have 100 clients by the end of his first year.
"I think it's an important for our community to be accessible to other people," Des says. "If you've got access to a particular service or knowledge, you should pass it on or use it to assist others. It might be small in your part but it's large in their part.
"Having children of my own, I see all the issues that are needed in our community, so I think it's important that I try to assist people who are considering a lifestyle change. This is not a 9 to 5 for me. My phone is always alive."
Des sees the driver licence is a gateway for people to build their confidence and claim their independence. For him, it is just the "first step".
"In Dareton, we've got a lot of young school leavers, but you've also got a lot of older people that never got their licence. We've got a lot of industry that requires you to have a licence, so if you want a job there, you need a licence. Public transport is not a big option, and a person's independence is important, so the whole Driving Change program is like a breath of fresh air."
He goes further: "The licence gives you your identity. A lot of people might not have a birth certificate or other ID, so once they do this, this gives them their identity back, which then allows them to plug into so many other services. The licence is the focal point but it gives them access to everything else.
"This helps the person develop in their own confidence and gives them opportunities to engage in the community without fear."
Des's biggest piece of advice for people who want their driver licence is that "it's not as scary as you think. After it's all done, a lot of people say to me 'that was easy', because it's built up in their minds. It's as easy or as hard as you make it depending on what you put into it. My role is to help broker that for you. I always say what you don't know, you can learn."
He adds that Driving Change is just as fulfilling for mentors as it is for clients. "There are many benefits for mentors," he says. "You get to have a discussion in the car about the community. People look to you as an advisory role. It's more than just driving. You don't know how much value you can add to someone just by sitting next to them. The hour or two goes very quickly, but there's wellbeing for both parties."